-THOSE BUILDING IN-
STEPPING STONE
These fine home builders are bringing dreams to life in Stepping Stone.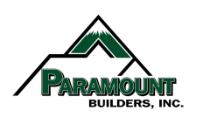 Paramount Builders Inc. is a residential design-build and commercial general contracting company that specializes in building quality projects that withstand North Dakota conditions. Projects include residential custom/semi-custom homes, multi-family properties, and commercial general contracting.

Founded in 2007, Paramount is a Bismarck-based company with a team of 25+ field and office professionals. With decades of combined team experience, you can be confident that Paramount Builders Inc. is the right choice for your new home.

Ascend building LLC has been in the automation and construction business in the Watford City area since 2012. Prior to this owner Hector remodeled homes in Colorado and owned a roofing company. In 2020, Ascend Building built or conducted the majority of the work on 25 single family homes.

Currently, Ascend Building is in the planning stages of building a home which will qualify for the $50,000 Buyers Assistance Program from the Job Development Authority of McKenzie County. Ascend Building works hard to create a legacy of great places to live.
-BRING YOUR-
BUILDER
You may choose to use another builder for your home construction. Visit with our team for more details on the design review process and other requirements necessary for building in the development.